What is Music Camp?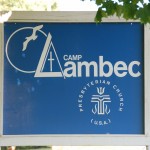 Music Camp is a six-day summer camp program that is held at Camp Lambec on the shores of Lake Erie in North Springfield, PA. Its purpose is to spread the Gospel message to students that have completed grades 3 through 12, and give them the opportunity to praise God through choral and instrumental music.
Campers arrive on Sunday afternoon. Sunday evening, they will hear and read the choir music for the first time (all campers sing in the choir). On Monday morning, those campers who play in the band or orchestra will see and play the music for those ensembles for the first time. And on Friday evening, the campers will perform band and orchestra concerts as well as a choral musical.
Counselors are continuously asked, "How can you all do so much in just one week?" Our answer is always, "Only through the Lord our God. Our faith in Jesus Christ can help us do what we do."
Who are the Music Camp leaders?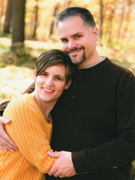 Pete Kennaday has been at the helm as the Program Coordinator for Lambec Music Camp since 2008, prior to which he was a boys' counselor at Music Camp for 20 years. His wife, Liz, is the Assistant Program Coordinator, and has been on the Music Camp staff since 2001.
Our minister, Rev Karl McDonald, and choir director, Jayne McDonald have been on the staff for over 25 years. Our band director, Kristen (Dobish) Woodard, has also been on our staff for over 15 years, assisting our previous band director for several years before taking over in 2009. And since the inception of our orchestra in 2012, our strings players have been led by Katie Benson, who has been a member of our staff for over 10 years.
All of the counselors have been involved with Music Camp for several years (many of them over 15 years). In many cases, they first came to Music Camp as campers, and then were asked to join the staff when they "aged out" and entered college.
What do we do at Music Camp?
Every Music Camp day starts with our award-deserving Morning Show to get the campers out of bed and dancing! We hit the ground running, and don't stop for long! We keep our days filled with Devotional time, choir practice, Bible study, band and orchestra practice, and lots of summer fun! We've got volleyball courts, a softball/soccer/ultimate Frisbee field, swimming in Lake Erie, waterfront activities like canoeing and paddleboats, and more. Or, if you want to take a breather, you can just lie under a tree and just chill in the shade with some friends.
Every evening, we have a different camp-wide activity after dinner. These range from camp-wide Olympics (pitting cabin against cabin), counselor hunts, Bible trivia contests, scavenger hunts, and a Music Camp tradition – Capture the Flag (after dark).
We also have our Club time every evening. We sing praises to God, watch meaningful dramas (or goofy skits), and hear from Karl McDonald, our Club speaker. Club is a nice mix of fun, worship, silliness, and spirituality.
After Club, we wind the evening down with "Singing Across the Vale", where the boys and girls (each on their respective side of camp) sing a praise song to each other across a valley. This is followed by the traditional playing of Taps. Nighttime devotionals led by the cabin counselors bring the day to a close, and everyone gets some much-needed sleep.